Bathroom Interior Design Ideas With Bohemian Style Decor
Bohemian or boho style refers to a fashion and interior design trend that is characterized by a free-spirited, eclectic, and non-traditional aesthetic. It draws inspiration from various sources, including the hippie movement of the 1960s and 1970s, bohemian lifestyles, and ethnic and folk traditions from around the world. For interior design, bohemian style embraces a mix-and-match approach, combining vintage, handcrafted, and globally-inspired elements. This can include elements such as colorful textiles, patterned rugs, floor cushions, low seating, hanging plants, and an abundance of decorative items collected from travels or flea markets. The overall ambiance is relaxed, cozy, and inviting, with an emphasis on creating a space that feels personal and curated.
It's important to note that bohemian style is highly individualistic and encourages self-expression and creativity. While there are common elements and inspirations associated with the style, it ultimately allows for personal interpretation and adaptation. Bohemian style decor is known for its eclectic, relaxed, and vibrant aesthetic. It incorporates a mix of colors, patterns, textures, and cultural influences to create a unique and inviting space.
Creating a bohemian-style bathroom allows you to infuse your personal touch into a space that is often overlooked in terms of decor.
Here are some ideas to help you achieve a bohemian vibe in your bathroom:
The foundation of a bohemian-style bathroom lies in the choice of colors and patterns. Embrace rich, earthy tones that evoke a sense of warmth and connection to nature. Deep blues reminiscent of the ocean, warm oranges reminiscent of a desert sunset, lush greens inspired by foliage, and rusty reds reminiscent of clay all work beautifully in a bohemian space. Mix and match these colors to create a visually stimulating environment that feels vibrant and alive.
Patterns play a crucial role in bohemian decor, adding depth and visual interest. Consider incorporating patterned tiles or a vibrant, patterned wallpaper as a focal point in your bathroom. Moroccan-inspired tiles with intricate geometric designs or tiles with vibrant, hand-painted patterns can transform the space into a bohemian haven. If tiles are not an option, explore the world of wallpaper with botanical prints, paisley motifs, or ethnic-inspired patterns. These patterns will set the stage for the eclectic and artistic vibe of your bohemian bathroom.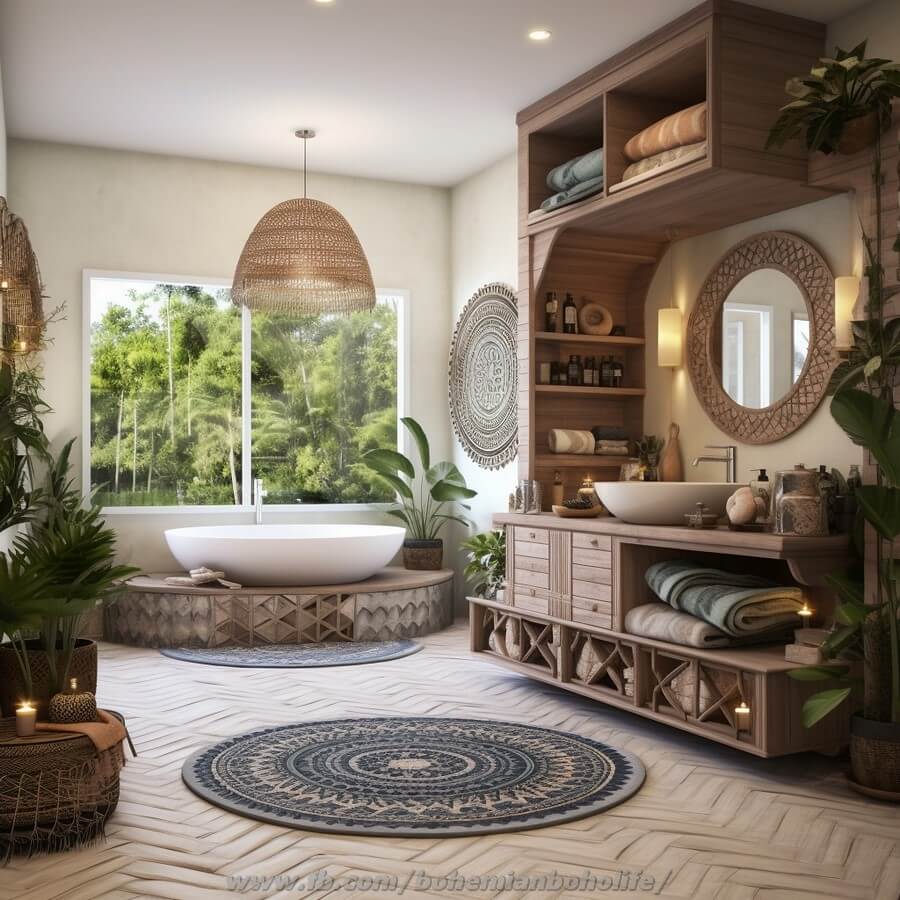 To enhance the bohemian atmosphere, bring in natural elements that add a touch of organic beauty. Wood, bamboo, rattan, and jute are excellent choices for infusing a sense of nature into the space. Consider using these materials for cabinets, shelving, or woven baskets that provide both functionality and aesthetic appeal. A wooden vanity with a distressed finish can add character and rustic charm, while a bamboo ladder can serve as a unique towel rack. By incorporating natural materials, you create a grounding effect and a connection to the earth, which is a central theme in bohemian style.
Textiles are another essential element in bohemian decor, and they can be used to introduce color, texture, and a sense of coziness to your bathroom. Select shower curtains, window treatments, and bath mats in textured textiles that reflect your bohemian vision. Look for options with colorful patterns, tassels, or fringes to add a playful and artistic touch. Consider using a vibrant, patterned shower curtain as a statement piece, or layering various rugs and mats with different textures and prints for a relaxed and eclectic feel.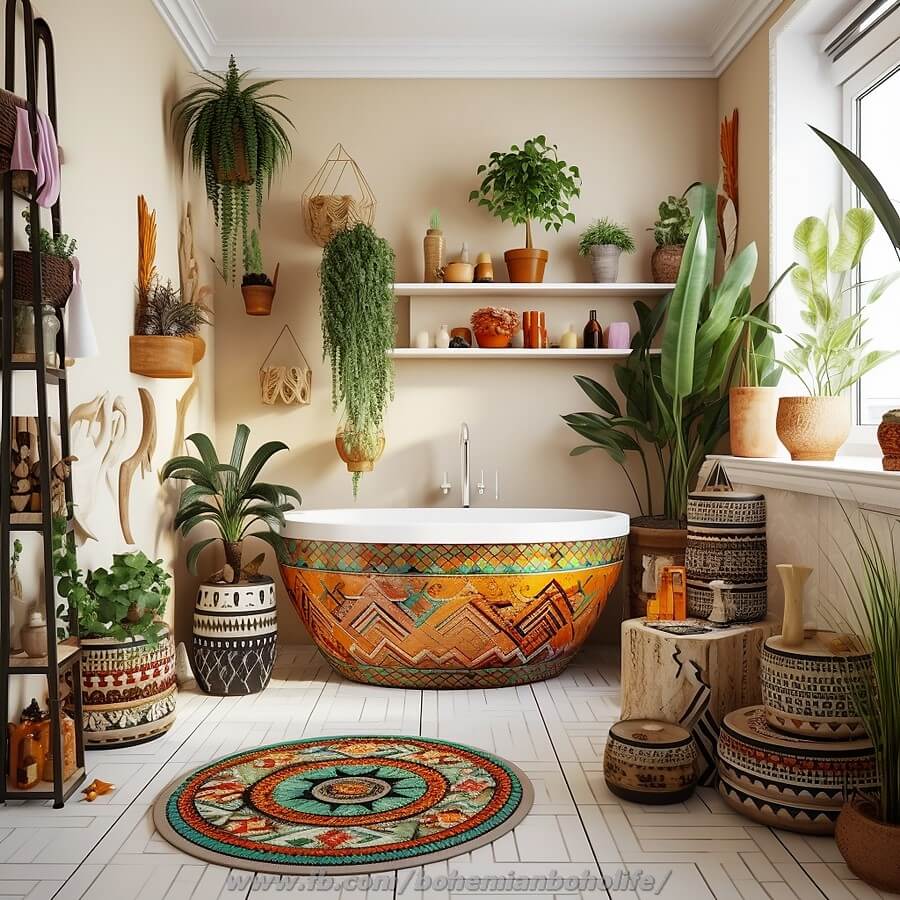 Vintage and eclectic accessories are a hallmark of bohemian style and can transform an ordinary bathroom into a visually captivating space. Explore thrift stores, flea markets, or vintage shops for unique pieces that reflect your personal style. Decorate your bathroom with antique mirrors, brass or copper fixtures, and unique artwork or photographs that add character and a sense of history. Vintage bottles and jars can serve as storage containers for your toiletries, while eclectic artwork can adorn the walls and infuse the space with artistic flair.
Greenery and plants are essential in bohemian decor, bringing a fresh and natural touch to your bathroom. Add greenery in the form of low-maintenance plants that thrive in a humid environment, such as air plants, succulents, or ferns. Place them in ceramic pots, hanging macramé plant holders, or repurposed vintage containers to create a lush and inviting atmosphere. The vibrant green leaves of the plants will complement the earthy color palette and add a touch of tranquility and life to your bohemian bathroom.
Bohemian style is known for its emphasis on individuality and self-expression, and decorative accents are the perfect way to showcase your unique taste. Incorporate bohemian accents such as macramé plant hangers, woven wall hangings, or beaded curtains to add a touch of texture and visual interest. Display an assortment of vintage trinkets, eclectic art pieces, or handmade crafts that resonate with you. Mix and match items that reflect your personal style and interests, and let them tell a story within your bohemian bathroom.
Lighting plays a crucial role in creating a warm and inviting atmosphere in your bohemian-style bathroom. Opt for soft, ambient lighting that enhances the overall aesthetic. Consider adding string lights, candles, or pendant lights with rattan or colored glass shades to create a magical and cozy ambiance. Soft, diffused lighting will set the mood and create a relaxing environment, perfect for unwinding and embracing the bohemian spirit.
Unique mirrors can become a focal point in a bohemian bathroom. Look for mirrors with ornate frames, distressed finishes, or interesting shapes. Vintage mirrors with intricate carvings or patina can add a bohemian touch and become an eye-catching element on the wall. The mirror will not only serve a functional purpose but also add depth and visual interest to the space, reflecting the eclectic and artistic vibe of the room.
Bohemian style celebrates a mix-and-match approach, allowing you to combine different elements and experiment with colors, patterns, and textures. It encourages you to embrace your creativity and let your personality shine through your decor choices. Create a space that feels personal and curated, reflecting your unique taste and love for unconventional beauty.
In summary, a bohemian-style bathroom is all about infusing your personal touch into the space, creating an oasis that resonates with your free-spirited and artistic soul. From the choice of colors and patterns to the incorporation of natural elements, vintage accents, and unique accessories, each element contributes to the overall bohemian vibe. Let your imagination run wild, explore the world of colors and patterns, and create a bathroom that transports you to a whimsical and inspiring realm.
Bohemian style encourages individuality and creativity, so don't be afraid to mix and match different elements and experiment with colors, patterns, and textures to create a bathroom that reflects your personal style.
Creating a bohemian-style bathroom allows you to add your personal touch and creative flair to the space. By incorporating various elements such as colors, patterns, natural materials, and handmade items, you can transform your bathroom into a bohemian haven.
Here are some DIY ideas to help you achieve a bohemian vibe in your bathroom:
Paint and Patterns:
Start by choosing the colors and patterns for your bathroom walls. Opt for rich, earthy tones such as deep blues, warm oranges, or rustic browns. Consider creating an accent wall with a bold pattern using stencils or hand-painted designs. Moroccan-inspired patterns, paisley motifs, or geometric shapes can work well to add visual interest and a bohemian touch.
Macramé Accents:
Macramé is a popular bohemian-style craft that you can incorporate into your bathroom decor. Create your own macramé plant hangers to suspend air plants or trailing vines from the ceiling or walls. You can also make a macramé shower curtain or window covering using thick rope or cord.
Textile Art:
Embrace your artistic side by creating your own textile art pieces for the bathroom. Paint or dye fabric with bohemian-inspired patterns and colors, and then frame the fabric as wall art. You can also make your own tapestry using fabric scraps, yarn, and beads.
Natural Elements:
Incorporate natural materials to bring an organic feel to your bathroom. Use driftwood or branches to create unique towel racks or hooks. Decorate your bathroom shelves with seashells, dried flowers, or small potted plants. You can even make your own bath salts or homemade soaps using natural ingredients and essential oils.
Vintage Finds:
Visit thrift stores, flea markets, or garage sales to find vintage items that add character and charm to your bathroom. Look for vintage mirrors with ornate frames, old mason jars for storing toiletries or bath salts, or antique glass bottles for displaying flowers or branches. These unique pieces will give your bathroom a bohemian flair and a sense of history.
Woven Wall Hangings:
Create your own woven wall hangings using yarn, fabric scraps, or natural fibers like jute or raffia. Experiment with different weaving techniques such as macramé knots, simple weaving, or fringe details. Hang your woven creations on the walls to add texture and a handmade touch to your bohemian bathroom.
Upcycled Vanity:
Give your bathroom vanity a bohemian makeover by upcycling an old piece of furniture. Sand it down, paint it with vibrant colors, or distress the finish for a vintage look. Consider adding colorful ceramic knobs or handles to enhance the bohemian aesthetic. This project will not only save you money but also give your bathroom a one-of-a-kind piece.
Mosaic Tile Art:
Use broken tiles or glass pieces to create mosaic art on your bathroom walls or floors. This allows you to personalize your bathroom with unique patterns and designs. Create a mosaic accent behind the sink or use small mosaic tiles to cover the top of a vanity. The possibilities are endless, and it's a great way to add a handmade touch to your bohemian bathroom.
Boho Shower Curtain:
Make a bohemian-inspired shower curtain using a plain white or neutral-colored curtain as a base. Use fabric paint or tie-dye techniques to add colorful patterns and designs. You can also sew on fabric strips, tassels, or pom-poms to enhance the bohemian look. This project will give your bathroom a unique and artistic focal point.
Herb Garden:
Bring the outdoors inside by creating a herb garden in your bathroom. Hang small pots or mason jars filled with herbs on a wooden ladder or attach them to the wall with hooks. Not only will this add a natural element to your bohemian bathroom, but you'll also have fresh herbs for cooking or relaxing herbal baths.
Embrace the bohemian spirit of individuality and self-expression as you create a bathroom that reflects your unique taste. Experiment with different ideas, repurpose items, and let your imagination guide you in bringing your bohemian-style bathroom to life.