Transform Your Bathroom Vanity with Bohemian Style Decor
The bathroom, often overlooked in the realm of interior design, is a space with vast creative potential. In recent years, the boho style has gained immense popularity for its free-spirited, eclectic, and effortlessly chic aesthetics. Incorporating boho elements into your bathroom vanity can transform this functional space into a Bohemian paradise that exudes warmth, character, and individuality. In this comprehensive guide, we will explore the essence of boho style, the key elements that define it, and various ways to decorate your bathroom vanity to embrace this captivating design trend. From color palettes to materials, accessories, and organizational tips, you will discover how to create a boho-inspired bathroom vanity that not only meets your practical needs but also becomes a soulful sanctuary within your home.
Before delving into the details of a boho-style bathroom vanity, it's essential to grasp the essence of this design trend. Boho, short for Bohemian, is an eclectic and unconventional style inspired by the free-spirited lifestyle of the 1960s and 1970s. It's all about celebrating individuality, embracing imperfections, and infusing your space with a sense of wanderlust and a love for culture.
Boho interiors are known for their rich and vibrant color palettes. Think earthy tones like terracotta, deep blues, lush greens, and warm yellows. These colors evoke a sense of nature and adventure, making them perfect for bathroom vanities. Boho embraces a mix of textures and materials. Wicker, rattan, macramé, and fabric are essential for adding depth to your bathroom vanity. These materials create a warm and cozy atmosphere that's inviting and visually stimulating.
Boho style often incorporates global influences. Vintage or handcrafted items, such as Moroccan rugs, ethnic textiles, and unique artifacts from different cultures, can be used as decorative pieces in your bathroom vanity. Bringing nature inside is a key element of boho style. Plants, such as succulents, hanging ivy, or air plants, can be displayed on your vanity to add a refreshing touch of greenery. Mix and match furniture and accessories that don't necessarily match but still complement each other. Boho embraces the charm of the imperfect and the unconventional, making it a perfect fit for creating a personalized bathroom vanity.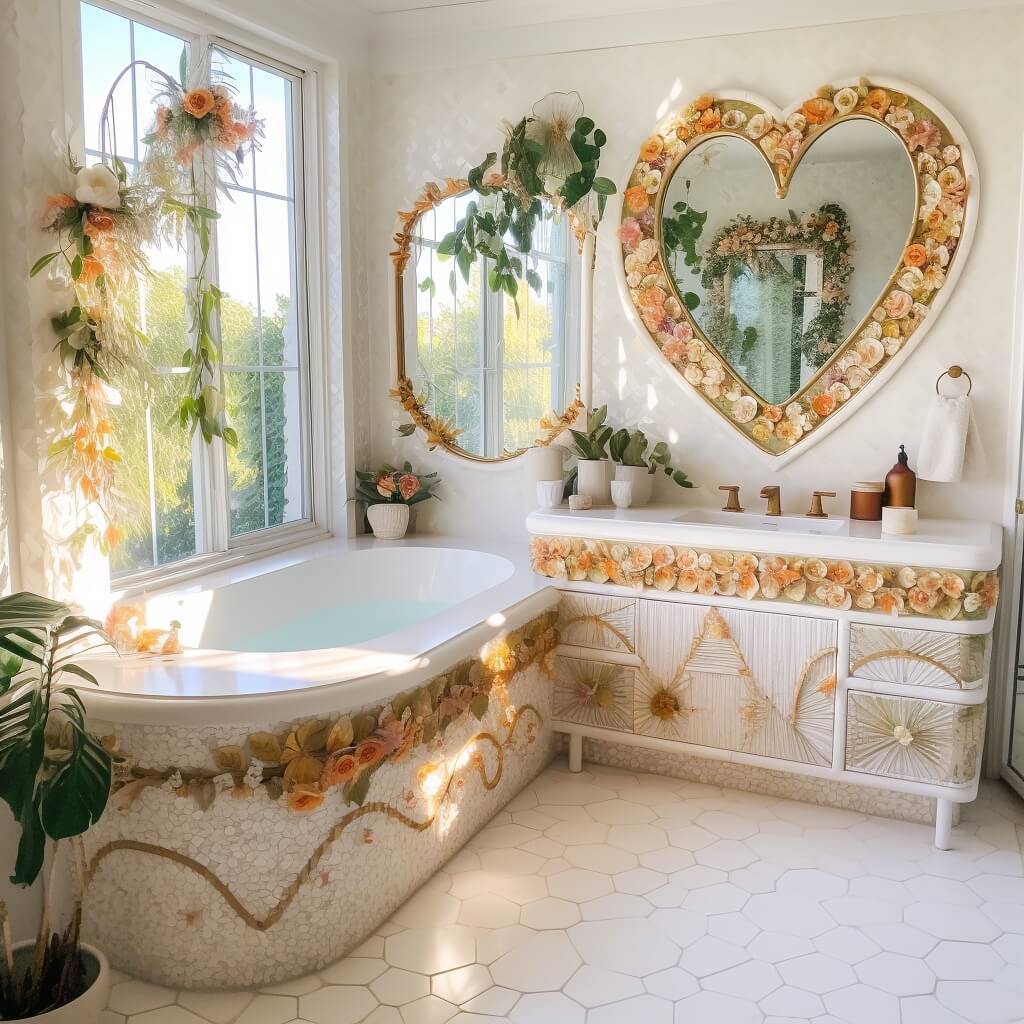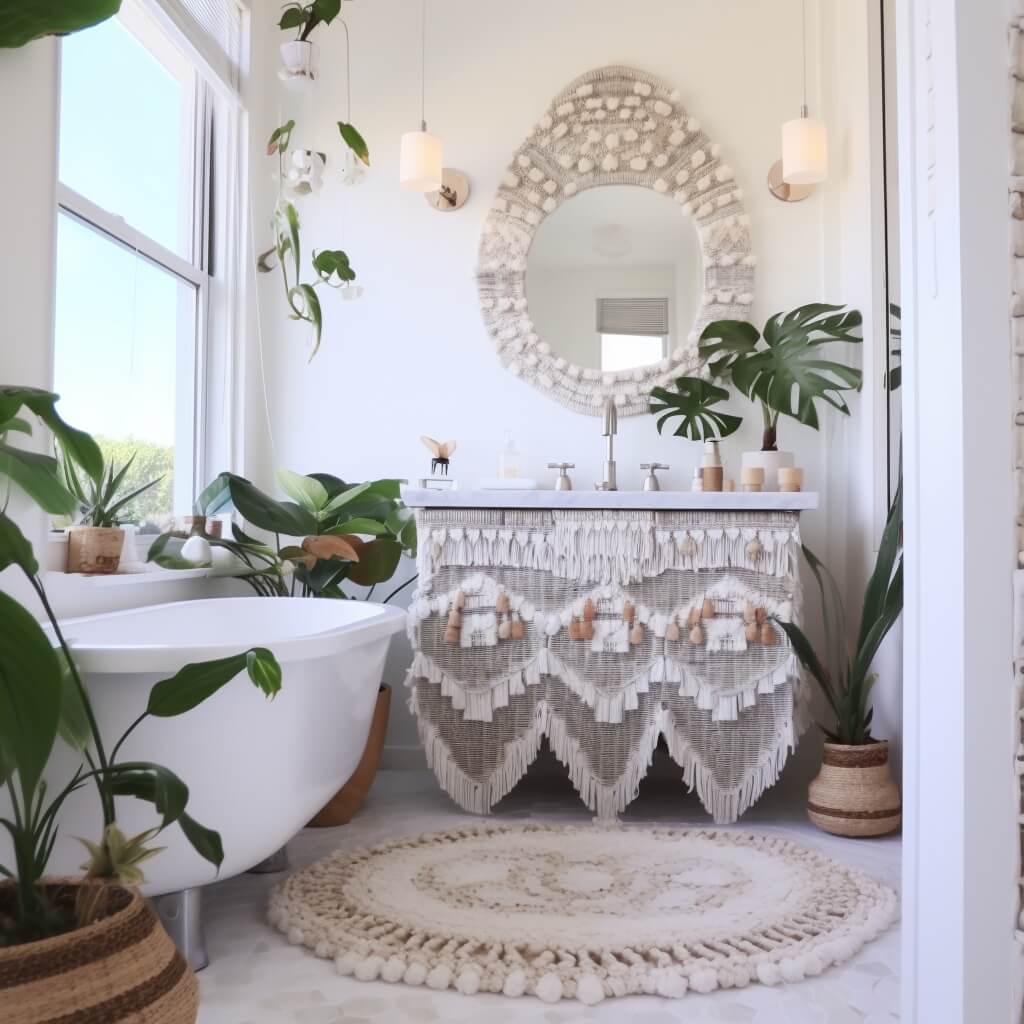 To set the boho tone in your bathroom, consider incorporating colorful tiles or backsplashes with intricate patterns. These tiles can bring a burst of color and texture to the vanity area, giving it an immediate boho flair. Boho design often celebrates the use of natural materials. Opt for a bathroom vanity made of reclaimed wood or bamboo to create a rustic and earthy look. You can also enhance the boho feel with stone countertops or a concrete sink basin.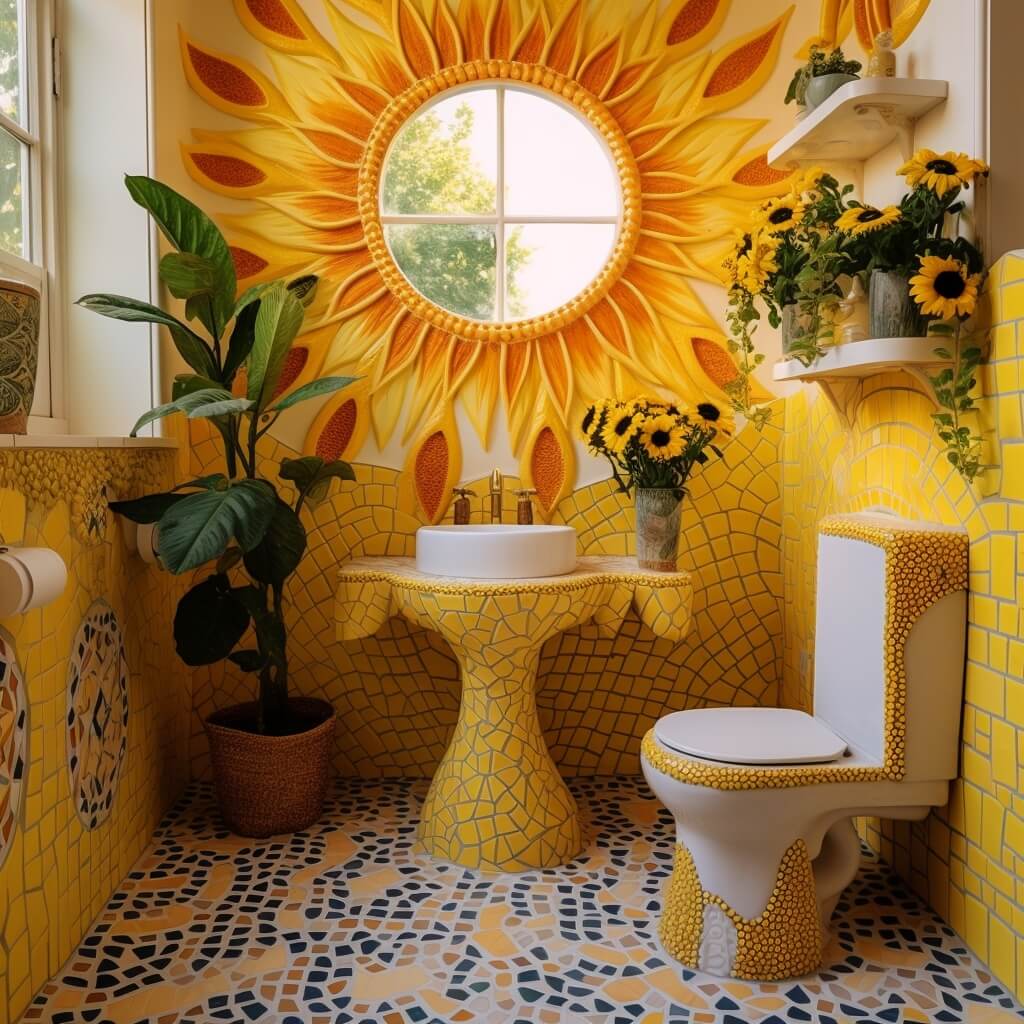 Boho style encourages the use of unique and eclectic decor. Choose an ornate, vintage mirror with a distressed finish as the focal point of your vanity. Surround it with smaller decorative elements like hand-painted pottery, brass candleholders, and colorful jars to complete the look. Boho design favors open storage solutions and eclectic shelving. Replace traditional cabinets with open shelves made from natural materials like bamboo or reclaimed wood. Fill these shelves with wicker baskets, handwoven textiles, and colorful storage containers.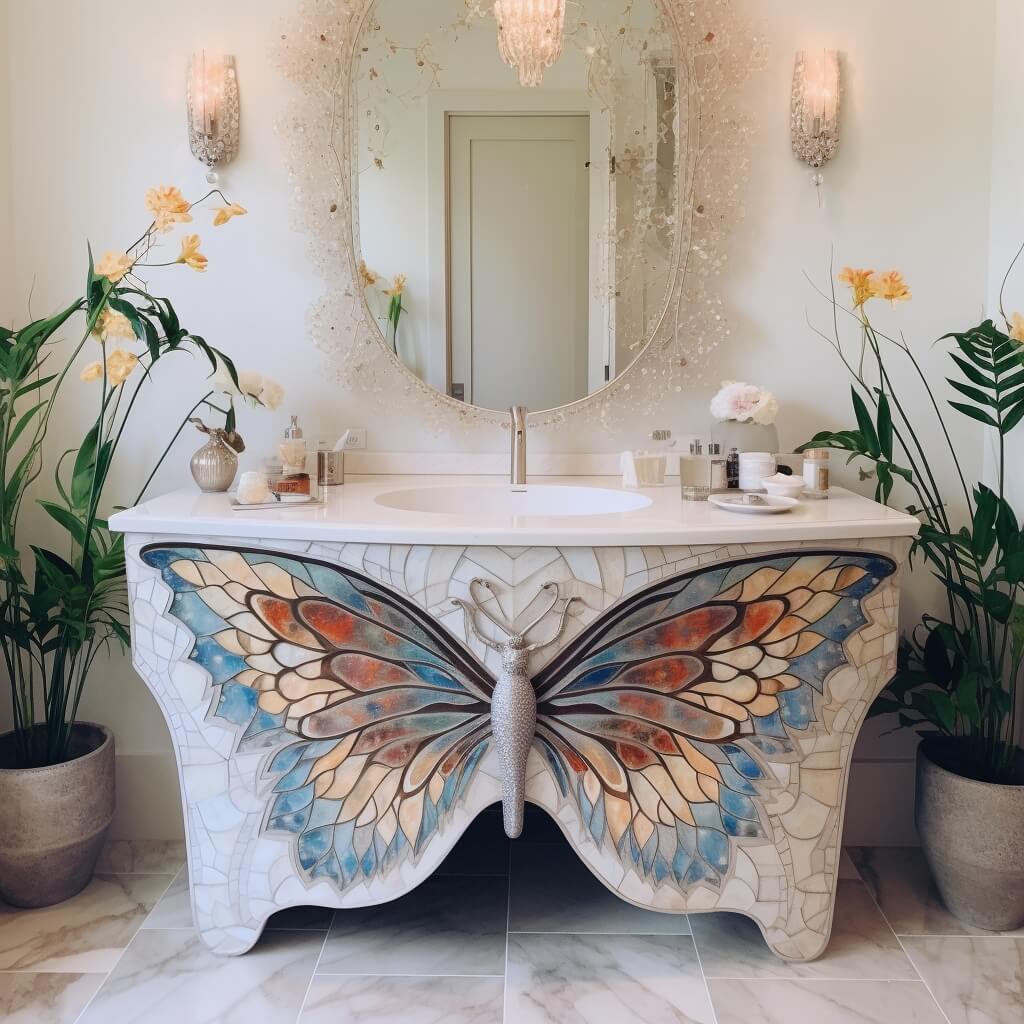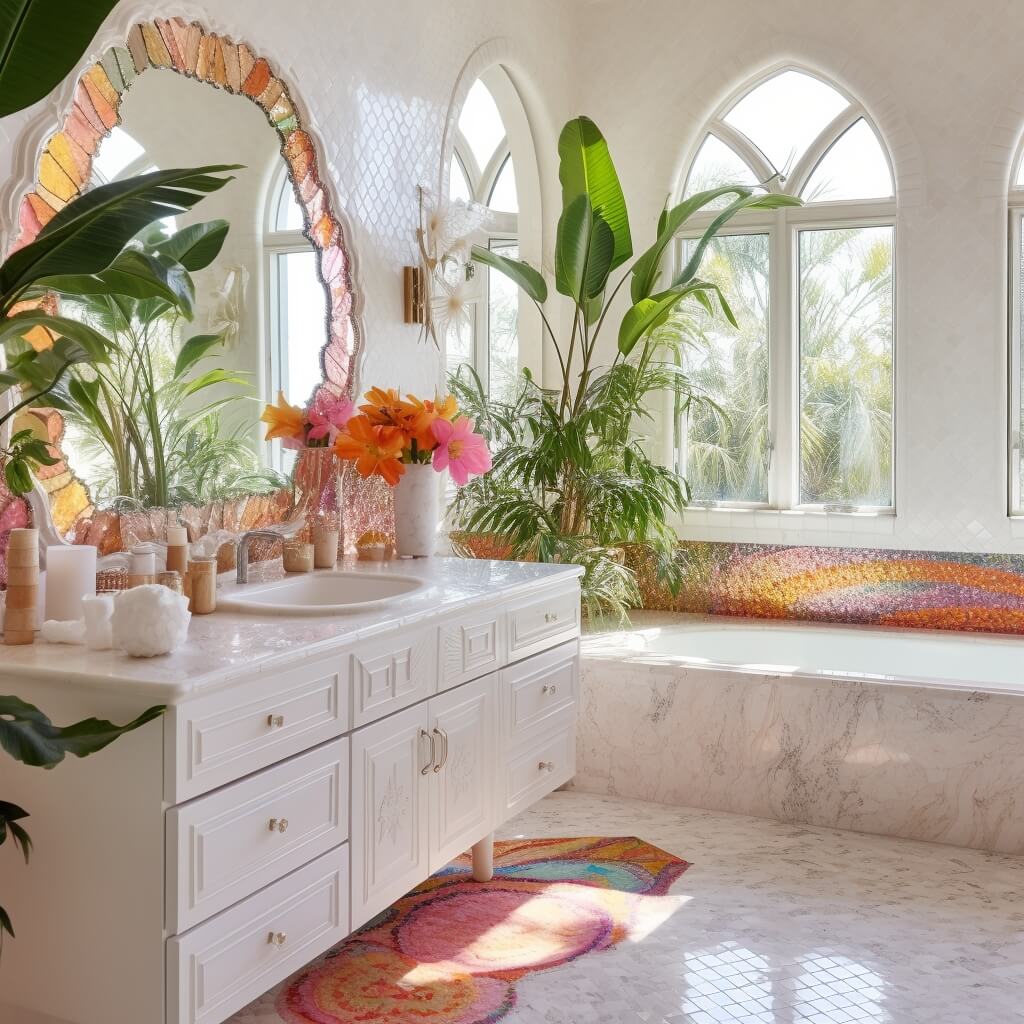 Incorporate boho patterns into your bathroom through the use of patterned towels, curtains, or a fabric skirt for your vanity. Look for designs with paisleys, florals, or geometric prints in vibrant colors to add visual interest. Search for vintage and handcrafted accents to complete your bathroom vanity's boho look. Consider a one-of-a-kind vanity tray, handmade soap dishes, or unique ceramic items from local artisans. Add a touch of nature to your vanity by placing potted plants in decorative boho-style planters. Hanging planters can also create a cascading effect, adding a fresh and lively element to the space.
A boho-style decorated bathroom vanity is a delightful way to infuse your home with a sense of adventure, creativity, and individuality. By embracing vibrant colors, natural materials, unique decor, and eclectic furnishings, you can transform your bathroom into a bohemian paradise. Remember to balance the aesthetics with practicality through thoughtful storage solutions and a minimalist approach to vanity essentials. Your boho bathroom vanity will not only be a functional space but also a daily escape into the world of free-spirited design and self-expression.