Kitchen Interior Design Ideas with Boho Style Decor
Boho style, short for bohemian style, is a fashion and interior design aesthetic that is inspired by the free-spirited and artistic lifestyle of bohemians. It is characterized by a relaxed and unconventional look, incorporating elements from various cultures, particularly those associated with hippie, gypsy, and folk influences. It's important to note that boho style allows for personal interpretation and experimentation. It's a style that encourages self-expression, individuality, and a carefree attitude. Feel free to mix and match elements to create a bohemian look that reflects your unique personality and preferences.
The boho style, known for its free-spirited and eclectic nature, is not limited to fashion and interior design—it can also be beautifully incorporated into the heart of the home: the kitchen. A boho-style kitchen embraces a relaxed and welcoming atmosphere while showcasing artistic elements and global influences. In this article, we will explore the key characteristics and design elements that define a boho-style kitchen, from color schemes and materials to decorative accents and functional considerations.
Color Palette:
Boho kitchens often feature a warm and earthy color palette, creating a cozy and inviting ambiance. Consider hues such as muted browns, creamy whites, rich oranges, deep blues, and olive greens. These colors can be applied to walls, cabinetry, countertops, and backsplashes. Additionally, incorporating pops of vibrant colors through accessories, such as Moroccan-inspired tiles or colorful pottery, adds an energetic and lively touch to the space.
Natural Materials:
Emphasizing natural materials is crucial in achieving an authentic boho kitchen. Opt for raw, organic textures such as exposed brick walls, reclaimed wood flooring, or butcher block countertops. Natural stone, such as marble or granite, can be used for both functionality and aesthetics. Integrating these materials not only adds depth and character but also aligns with the bohemian philosophy of sustainability and connecting with nature.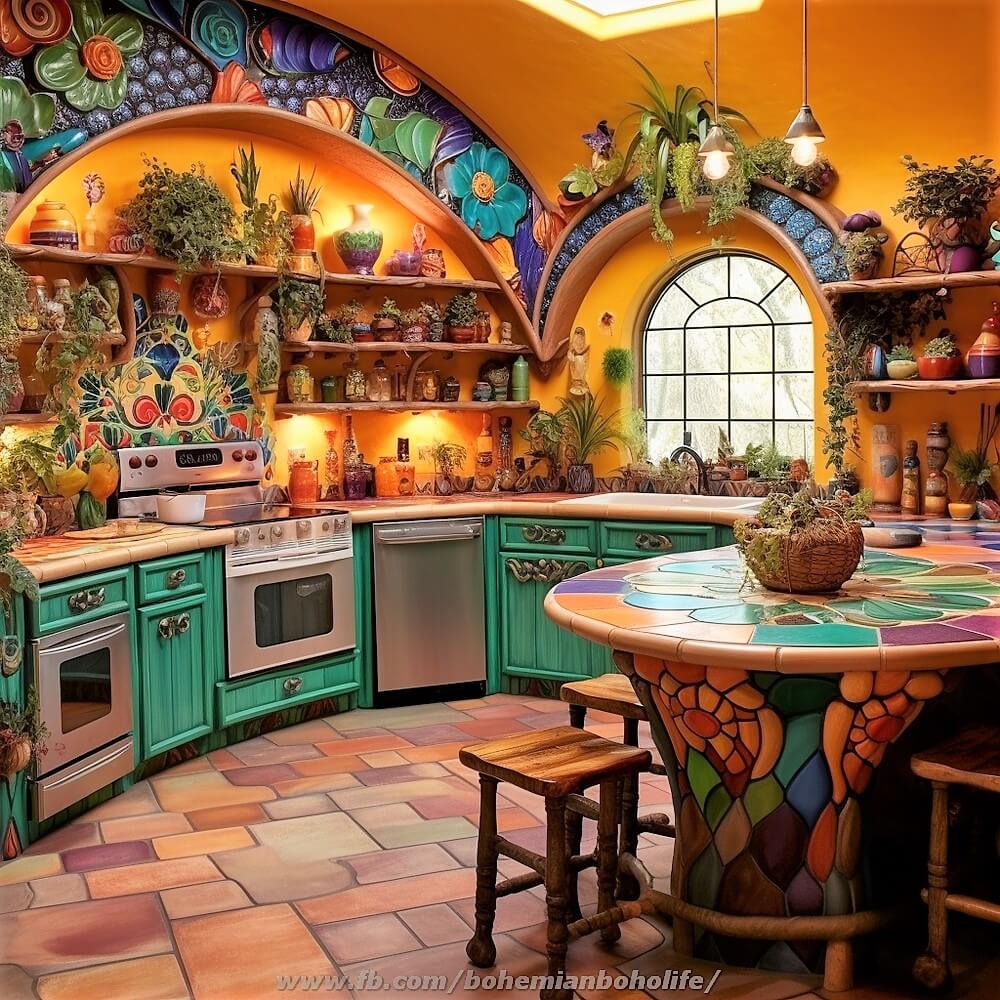 Open Shelving and Display:
Boho kitchens often shy away from traditional closed cabinetry and instead embrace open shelving or glass-front cabinets. This allows for the display of a curated collection of eclectic and well-loved kitchenware, vintage plates, colorful glassware, and handmade ceramics. The mix of textures and colors adds visual interest while showcasing personal style and a well-traveled spirit.
Vintage and Eclectic Accents:
Incorporating vintage or thrifted elements is a hallmark of boho style. Scour antique shops or flea markets for unique pieces like retro appliances, mismatched chairs, and vintage light fixtures. Woven or rattan baskets can be used for storage or as decorative accents, and old-fashioned cookware and utensils can be displayed on hooks or hung from a pot rack, adding a touch of nostalgia to the space.
Patterns and Textiles:
Boho style thrives on patterns and textiles, and the kitchen is no exception. Consider incorporating colorful Moroccan or Turkish tiles as a backsplash or even as a focal point on an island or countertop. Textiles such as kilim rugs, embroidered table runners, and patterned curtains can add warmth and visual interest. Mixing and layering different textures and patterns create a visually appealing and bohemian-inspired atmosphere.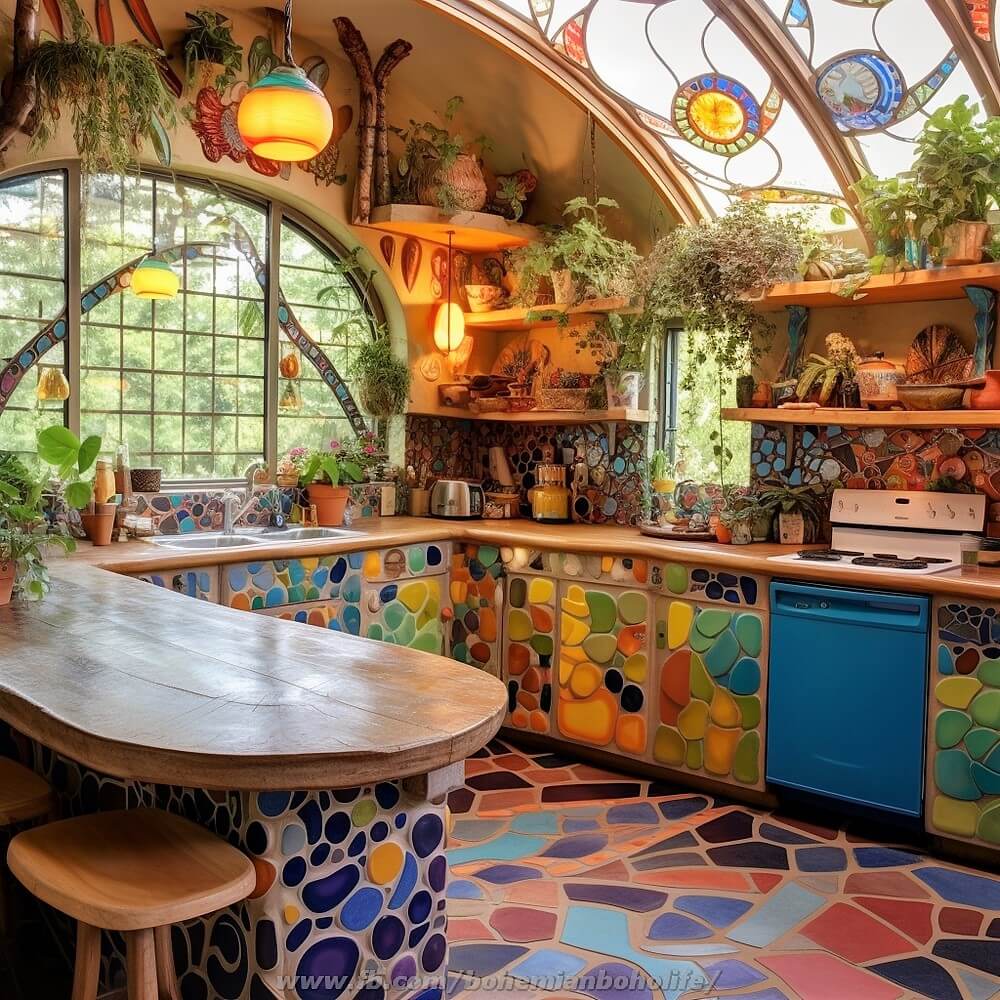 Plants and Greenery:
Bringing nature indoors is a fundamental aspect of boho style, and incorporating plants and greenery into the kitchen is a perfect way to achieve this. Place potted herbs, hanging plants, or succulents on windowsills, shelves, or countertops. Not only do they add a refreshing touch of green, but they also contribute to a calming and organic atmosphere.
Boho Lighting:
Choosing the right lighting fixtures can greatly enhance the boho aesthetic in the kitchen. Consider rattan pendant lights, macramé lampshades, or colorful lanterns to infuse a whimsical and natural ambiance. Soft, warm lighting can create a cozy and intimate atmosphere, perfect for gatherings or enjoying meals.
Functional Considerations:
While boho style embraces creativity and aesthetics, it is important to maintain functionality in the kitchen. Ensure that the layout and design of the space are practical for cooking and food preparation. Well-designed storage solutions, such as open shelves, hanging racks, and woven baskets, can help keep the kitchen organized while adding to the bohemian charm.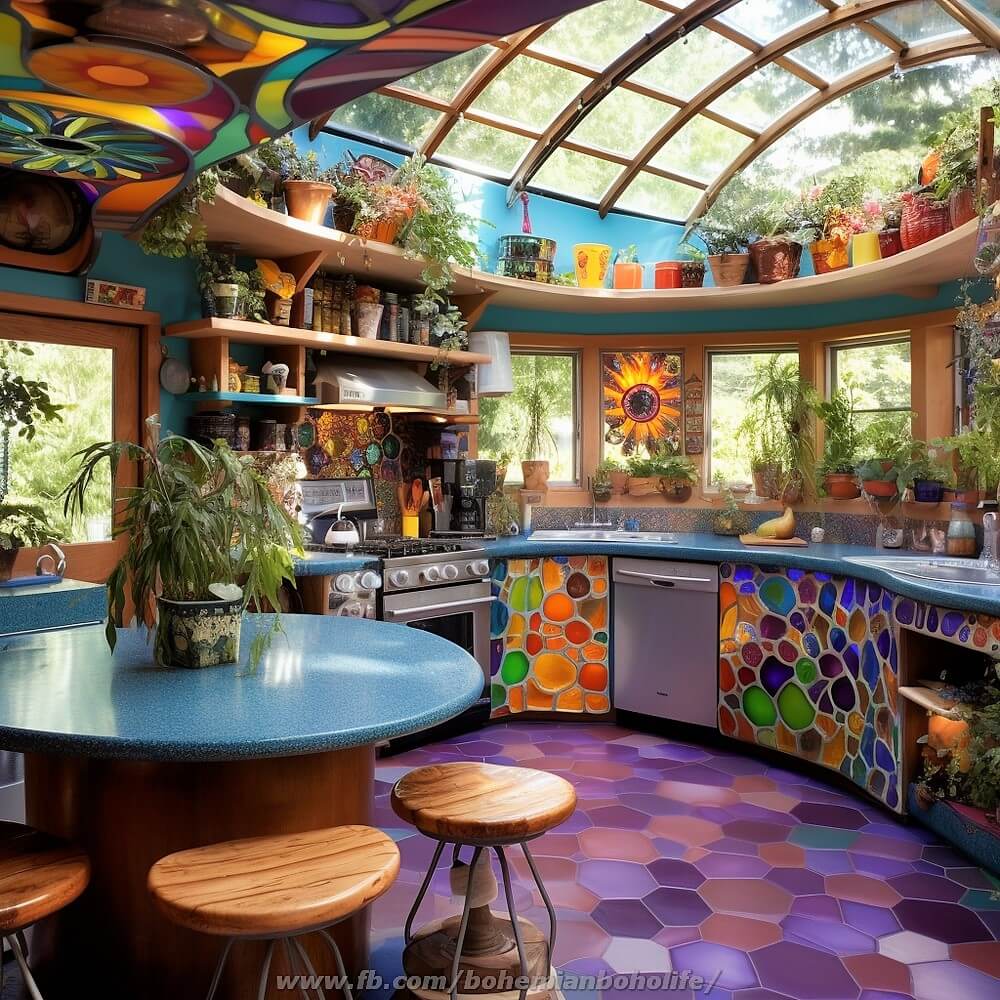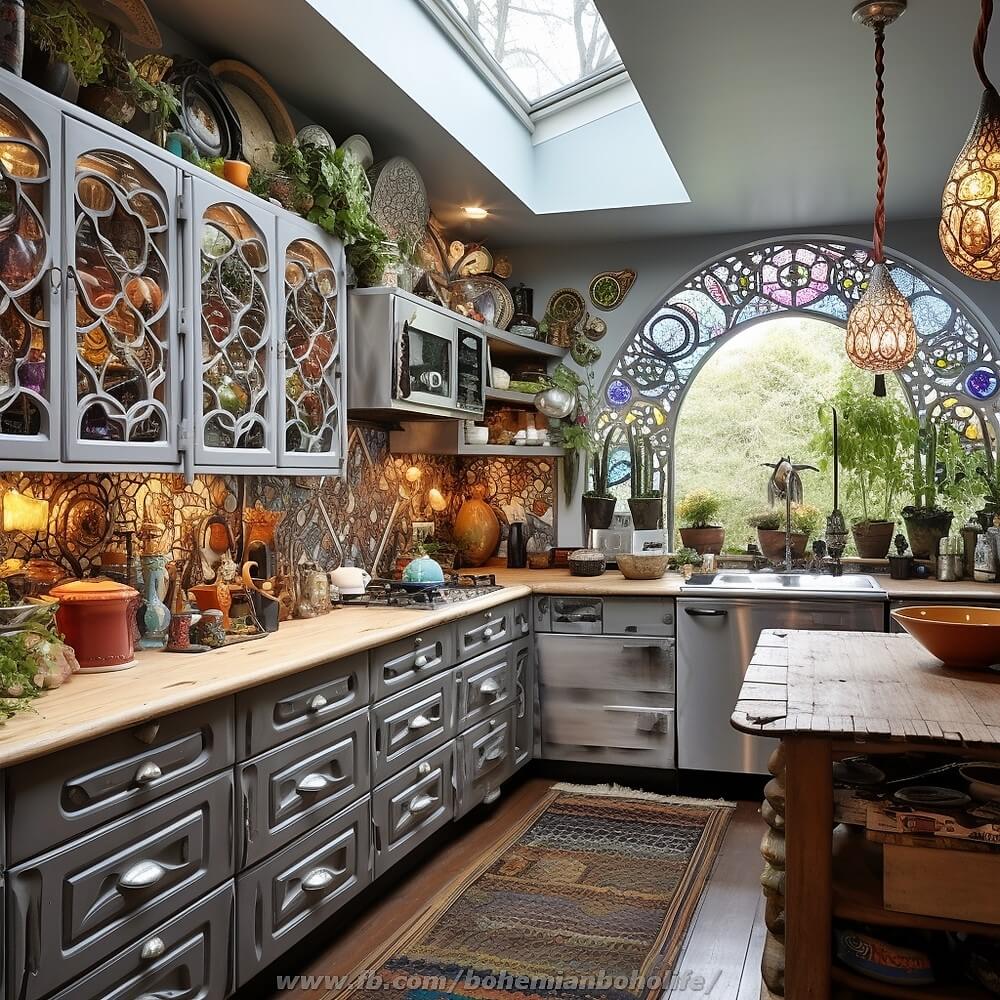 A boho-style kitchen is a fusion of creativity, comfort, and cultural influences. By incorporating earthy colors, natural materials, vintage accents, patterns, and textiles, along with an abundance of plants and functional design, you can create a kitchen that embodies the bohemian spirit. Remember to let your personality shine through and infuse the space with items that have personal meaning, resulting in a unique and inviting kitchen that reflects your free-spirited nature.